Optimum Announces Retail Expansion in New Jersey with New Stores in Paramus and Totowa
Optimum kicks off New Jersey retail expansion with the opening of two of 10 new stores planned for the state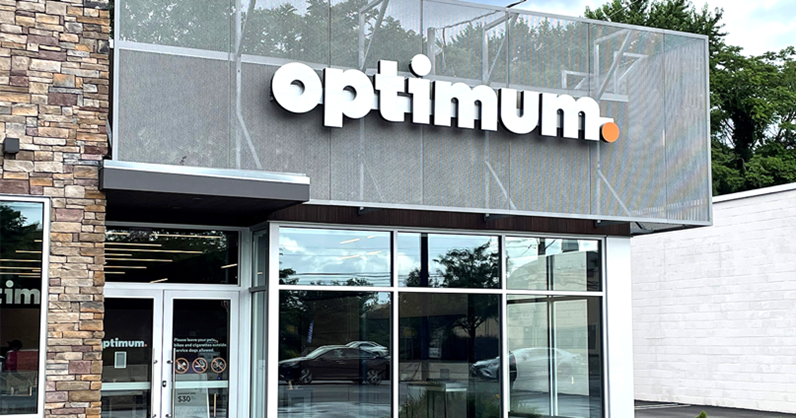 Exterior example of Optimum's new retail stores. Credit: Optimum
NEW YORK (July 5, 2022) – Optimum today announces the opening of two new stores in New Jersey, one in Paramus and one in Totowa, emblematic of the company's commitment to reconnect with its customers and communities to provide best-in-class service and support. The new Optimum stores in Paramus and Totowa are the first of 10 new stores slated to open in New Jersey as part of the company's ongoing retail expansion.
"We are excited to invite customers into our new, interactive Optimum stores in Paramus and Totowa where they can experience our advanced suite of products and services, including Optimum Fiber internet services, and receive expert support and guidance from our retail teams," said Jonah Pollack, Vice President of Retail Sales at Optimum. "We look forward to opening more stores in communities across the Garden State while also assisting residents and businesses with their connectivity needs at our existing retail locations."
The new state-of-the-art retail stores, located at 453 Route 17 South in Paramus and 205 US Highway 46 in Totowa, offer an interactive in-store experience where customers are invited to explore the complete line of Optimum connectivity offerings, including Fiber Internet, Smart WiFi 6, Optimum Mobile, TV and home phone services.
"It's exciting to have an Optimum retail store here in Totowa, providing our community with a convenient way to learn about Optimum's products and services as well as receive in-person support," said Mayor John Coiro of Totowa. "We appreciate Optimum's investment in Totowa and commitment to providing the very best service and experience to our residents."
"Optimum's retail expansion is yet another example of how the company has continuously demonstrated their commitment to serving New Jersey communities," said New Jersey Assemblyman Christopher P. DePhillips (District 40). "I look forward to visiting the new Optimum store in Totowa and the others opening in my district later this year."
Optimum also plans to open new stores in New Jersey markets such as Bayonne, Edison, Bridgewater, East Hanover, and others.
Commitment to our New Jersey Communities
The new Optimum retail stores are a concrete example of the company's ongoing investment in New Jersey, which includes the continued expansion of Optimum's 100% Fiber network across the state. Additionally, the company recently announced Optimum 5 Gig and 2 Gig Fiber Internet service, which will roll out across the company's New Jersey fiber footprint by year-end. The 5 Gig and 2 Gig internet tiers solidify Optimum's position as the fastest residential fiber internet service in the New York Tri-state area, with speeds more than twice as fast those offered by competing fiber providers.
The company is also committed to supporting the local community through initiatives focused on fostering STEM education and helping small businesses succeed. In the last few years, Optimum has provided more than $415,000 in grants to New Jersey small businesses, donated nearly $200,000 to fund 655 classroom projects across New Jersey through its partnership with DonorsChoose, and has provided $150,000 in technology grants to school districts in the state.
Store Information
Customers who visit Optimum stores are able to sign up for service, shop the latest mobile devices and accessories, pay bills, and receive assistance from a retail associate regarding their Optimum services.
453 Route 17 South Paramus, NJ 07652
Open: Monday – Saturday from 10 a.m. – 7 p.m.
Closed: Sunday

205 US Highway 46 West Totowa, NJ 07512
Open: Monday – Saturday from 10 a.m. – 7 p.m. & Sunday from 10 a.m. – 5 p.m.