Altice USA Celebrates 2022 Annual Patent Awards
Since 2016, Altice USA has been celebrating the innovative minds of our people through the Annual Patent Awards Ceremony.
The 2022 Patent Awards Ceremony marked the first time since the start of the pandemic when leaders from across the company were able to come together in person and honor our colleagues who contributed to company patents issued in 2021 and patent applications filed since the last ceremony.
This year's event, which recognized 15 Altice USA employees, was hosted by Pragash Pillai, Altice USA's EVP, Chief Technology and Information Officer & Customer Experience.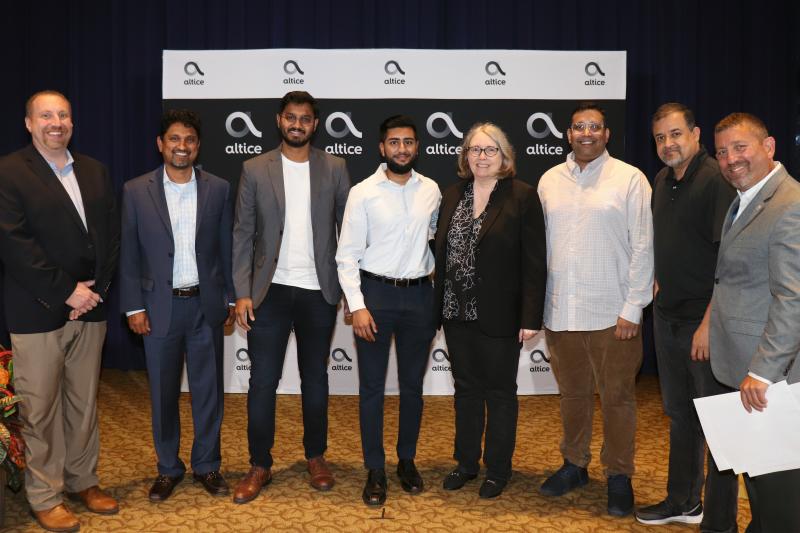 Left to right: John Markowski, Pragash Pillai, Shashank Somal, Jaison Antony, Kathy Ziet, Mahesh Singh, Rajesh Khandelwal, Adam Bernstein
The invention categories ranged from transcoding, identity privacy, advertising, and technology.
Congratulations to Chris Alahverdian, Heitor Almeida, Jaison Antony, Christopher Bhim, Pete Caramanica, Rajesh Khandelwal, Louis Maniscalco, John Markowski, John Pomeroy, Mahesh Singh, Shashank Somal, William Vincent, David Wang, Kathy Ziet, and Chris Zydel for their incredible achievements.
Milestones celebrated include:
Director of Software Development Heitor Almeida and Senior Vice President of Platform Engineering John Markowski both reaching a record of 12 patents each, the most in company history.
Four first-time inventors: Manager of Process Engineering Kathy Ziet, Engineer Christopher Bhim, Director of Regional Operations Center Chris Alahverdian, and Senior Operator of Regional Operations Center William Vincent.
Pete Caramanica celebrated his sixth issued patent and Jaison Antony celebrated his fourth.
Altice USA surpassing more than 200 patents issued in its name.
Altice USA applauds the more than 150 employees throughout the company's history who have contributed to the patent process at any stage – from an initial thought to a completed invention – through our Patent Program which provides resources to those looking to explore a patent application.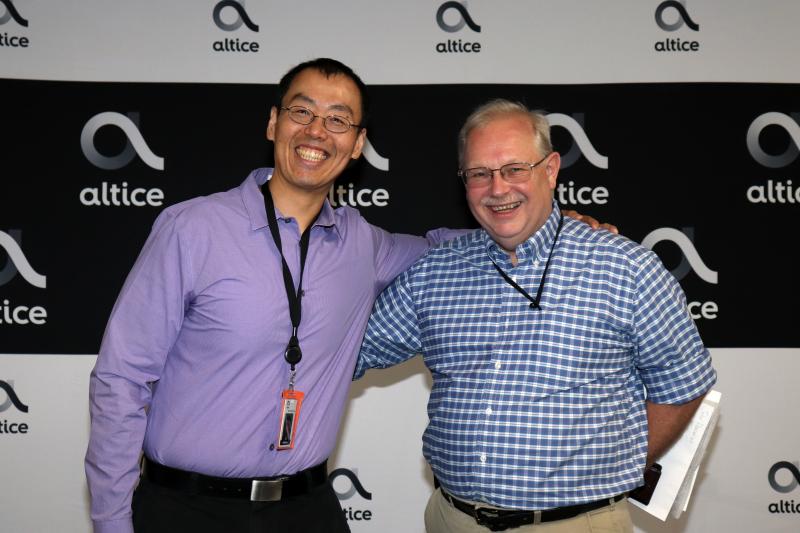 Left to right: David Wang, John Pomeroy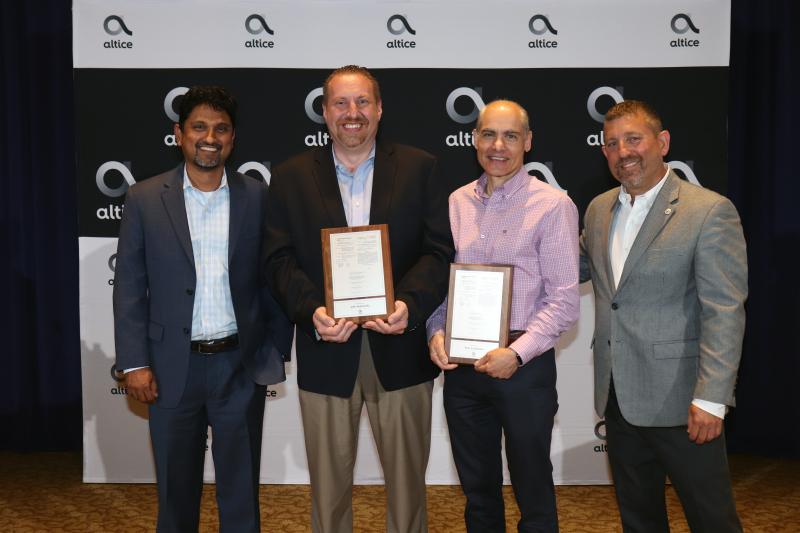 Left to right: Pragash Pillai, John Markowski, Pete Caramanica, Adam Bernstein
Our passion for reinvention, approaching challenges head on, and believing in what's possible is rooted in our commitment to provide the best connectivity experience possible to our customers, whose changing behaviors, expectations and make up are helping to shape the company we are today and the one we aspire to become.
That means creating an environment that reflects the ideas, perspective and backgrounds of the diverse communities and people that we serve across the country. We believe great ideas and the chance to help deliver for our customers are opportunities that should come from every member of our team.