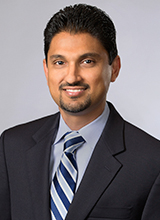 Pragash Pillai
Executive Vice President, Customer Experience and Regional Market Strategy
Pragash serves as the Executive Vice President of Customer Experience and Regional Market Strategy for Altice USA, overseeing all strategic and operational aspects of the service experience for residential and business customers, including quality and service excellence, as well as the Company's local market engagement activities across 21 U.S. states.
Previously, Mr. Pillai served as Executive Vice President, Operations for Altice USA, managing all aspects of operations for Altice USA including customer service, field operations, outside plant maintenance, construction, billing operations, customer experience, technical compliance and operations strategy. Mr. Pillai also held the role of Executive Vice President, Operations - Optimum Region, for Altice USA. Prior to that, he served as the Senior Vice President of Infrastructure Engineering for Cablevision, managing all aspects of end-to-end voice, video, data and wireless service delivery infrastructure. He also was Senior Vice President of Engineering and Technology for Bresnan Communications, which was acquired by Cablevision in 2010. Before joining Bresnan he served as Vice President of Advanced Engineering, Digital Video for Charter Communications.
Mr. Pillai received NAMIC's "Next Generation Leader" Award and the CED Pace Setter Award for Converged Platform. He has also been recognized by CableFAX The Magazine as the MSO Technology Innovator and CableFAX's Top "20 to Watch" and was the recipient of the Broadcasting & Cable – SMPTE 2007 Next Generation Engineering Leadership Award.
Mr. Pillai has co-authored several industry articles on technology and operations and has participated in multiple industry technical panels and sessions. He was also awarded a patent for a proactive network performance tool.
Mr. Pillai holds a Master's Degree in Applied Science in Telecommunications from the University of Denver and a Bachelor of Science Degree in Electrical Engineering from the University of Missouri. In addition, he completed graduate work in Telecommunications Management at Washington University in St. Louis. Mr. Pillai is a graduate of the NAMIC Executive Leadership Development Program at Anderson School of Management at UCLA. He also completed the MIT Sloan Executive Program in Strategy and Innovation. Additionally, he serves on the Board of Directors of NAMIC, an organization that educates, advocates and empowers multi-ethnic diversity in the telecommunications industry.