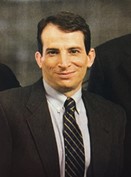 Matt Grover
Executive Vice President
Altice Business Services
Matt Grover is Executive Vice President, Altice Business Services. In this role, he is responsible for Altice USA's commercial products and services offered under the Optimum and Suddenlink Business brands.
Mr. Grover, who first joined the company in 2001, has nearly three decades of experience in the commercial telecommunications industry across multiple verticals and throughout the United States. Previously, Mr. Grover was Senior Vice President, Commercial Sales for Altice Business Services, responsible for the nationwide SMB sales organization including direct sales, call center sales, and partner sales channels.
Prior to joining the company, Grover held various telecommunications management positions at AT&T and North American Telecom over the course of nearly 10 years, including Vice President of Sales at North American Telecom and Global Account Manager and District Sales Manager at AT&T.
He serves as an Advisory Board Member of Data Storage Corporation and is a member of the Board of Trustees at Molloy College in Rockville Centre, NY.
Mr. Grover attained his BA in Economics from Stony Brook University and earned his MBA from the University of Southern California.