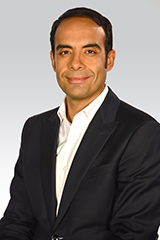 Hakim Boubazine
President of Telecommunications & Chief Operating Officer
Altice USA

Hakim Boubazine is President of Telecommunications and Chief Operating Officer of Altice USA, overseeing all aspects of Altice USA's product, marketing, technology, engineering, and operations functions with a focus on elevating and simplifying the customer experience for the millions of residential and business customers the company serves through its Optimum, Suddenlink, and Altice brands.

Under Mr. Boubazine's leadership, Altice USA continues to unveil innovative new products and services, including Altice One, the company's flagship all-in-one entertainment and connectivity platform, and Altice Mobile, an 'unlimited everything' mobile service delivered over a nationwide network. Mr. Boubazine is also leading the company's fiber-to-the-home deployment, which is already delivering gigabit broadband speeds to consumers and with the ability to deliver 10 gigabit speeds and more in the near future. In addition, Mr. Boubazine is spearheading the company's digital transformation efforts to provide a more simple, seamless and customer-friendly experience for customers at every touchpoint.

Prior to joining Altice USA, Mr. Boubazine served as the CEO of Altice's sister company Altice Dominicana, where he oversaw TV, broadband and mobile operations serving more than four million customers in the Dominican Republic. Mr. Boubazine was also previously CEO of a European telecommunications company specializing in the design, construction, and operation of the latest-generation cable and fiber networks in France, Belgium, Luxembourg, and the French West Indies. Prior to joining the telecommunications industry, he had an international career of more than ten years in the oil and gas industry, where he occupied various operations, business and senior management roles in Europe, Asia, North America, Africa and the Middle East.

Mr. Boubazine holds an engineering degree from the École Centrale de Lyon and a master's degree in Theoretical Physics from the University of Strasbourg. He is also a post graduate in Petroleum Engineering & Management from Imperial College of London. He has been honored by Cablefax Magazine for several consecutive years as part of its Cablefax 100 list of top industry power players and as one of Cablefax's Most Influential Minorities.