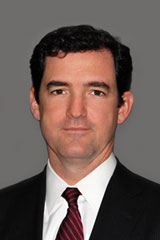 David Connolly
Special Advisor to the CEO,
Altice USA
David Connolly serves as a Special Advisor to the CEO on legal, M&A and regulatory matters. Previously, he was Executive Vice President, General Counsel and Secretary of Altice USA.
Previously, Mr. Connolly was a partner in the Mergers & Acquisitions group at Shearman & Sterling LLP, the law firm that represented Altice in its acquisition of Cablevision Systems Corporation. He served as an advisor to Altice for the transaction.
During Mr. Connolly's career at Shearman & Sterling LLP, he represented multinational corporations, financial institutions, and professional sports franchises and their owners in a wide range of matters, including acquisitions, divestitures, spin-offs, solicited and unsolicited transactions, takeover defense strategies, joint ventures, financings and corporate governance matters. Mr. Connolly also was an active member of Shearman & Sterling's widely respected and award-winning pro bono program.
He holds a B.A. from the College of the Holy Cross and a J.D. from Fordham University School of Law.