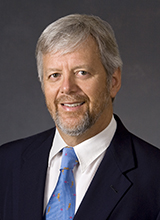 Patrick Dolan
Senior Network Advisor, News 12 Networks
Patrick Dolan is Senior Network Advisor, News 12 Networks. News 12 Networks is the nation's first, largest, and most watched 24-hour regional television news service, currently reaching approximately 3.8 million households in the New York tri-state market. News 12 Networks consists of seven 24-hour local cable news channels covering Connecticut, Westchester, Long Island, New Jersey, the Hudson Valley, Brooklyn and The Bronx. News 12 Networks also includes five traffic and weather channels, providing constantly updated information in those two key subject areas, throughout the same coverage footprint. In addition to the 12 cable channels, News 12 also features the award winning news12.com, the premiere destination for local news on the web, News 12 Interactive, channel 612 on Optimum TV, providing local news on-demand to Optimum subscribers, and News 12 to Go, local news available on mobile devices.
Mr. Dolan has been a member of the News 12 team since News 12 Long Island launched in 1986. He joined the station as a Special Projects producer and was promoted to News Director in 1991. He was named Senior Vice President of News in 1995 and President of News in 2001.
Prior to the start-up of News 12, Mr. Dolan spent three years at CNN as a reporter and producer. His news background also includes two years at WSAV in Savannah, GA; a year at WTVH in Syracuse, NY; and two years at WPIX in New York City.
Mr. Dolan has numerous accolades to his credit. In 2009, he was presented with the Press Club of Long Island's "Outstanding Journalist of the year" award, the organization's highest honor. In 2004, Mr. Dolan received the prestigious Governor's Award from the New York Chapter of NATAS, for significant contributions in the field of journalism. In addition to overseeing the news operation that has hundreds of awards to its name, Mr. Dolan's own reporting has been recognized multiple times by the Press Club of Long Island, RTDNA, the New York Associated Press, New York Festivals and the NY NATAS.
Mr. Dolan is a graduate of Columbia University. He serves on the Board of Directors of AMC Networks, and he is the founder and President of Haiti Air Ambulance.