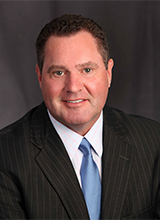 Ed Renicker
President, Media Sales
Ed Renicker is President, Media Sales, for the media sales division of Altice USA. In this role, he is responsible for Sales and Operations for the N.Y. Interconnect, Altice USA Local Ad Sales, News 12, and DataCo Sales.
Prior to Altice's acquisition of Cablevision, Mr. Renicker was Chief Operating Officer for Cablevision Media Sales, overseeing all aspects of the advertising sales operations for the New York Interconnect, Cablevision Local Ad Sales, and News 12. Before moving into that position he was the Executive Vice President and General Manager for the New York Interconnect from 2002-2013 and he oversaw all elements of the New York Interconnect's business, including sales, traffic, operations, research and marketing.
Mr. Renicker began his career on the advertising agency side at Rosenfeld, Sirowitz, & Lawson. He then moved to Young & Rubicam as Senior Planner, working on various accounts including New York Telephone, Thomas' English Muffins, and Gillette. In 1987, he joined Rainbow Advertising Sales Corporation (RASCO) as an Account Executive for the company's rep firm Cable Networks Incorporated (CNI).
Mr. Renicker has a B.A., Communications from the New York Institute of Technology.